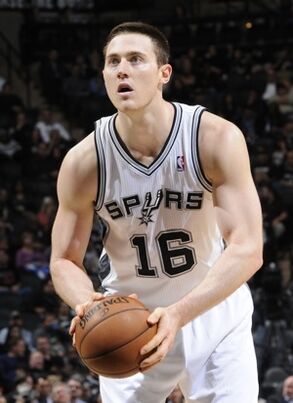 Aron John Baynes (born 9 December 1986) is an Australian professional
basketball
player who currently plays for the
San Antonio Spurs
of the
National Basketball Association
(NBA). He attended the
Australian Institute of Sport
in 2005.
Professional career
He started his professional career in the Northern Hemisphere in the autumn of 2009 with Lietuvos Rytas, a club from Vilnius that competes in the Lithuanian league and Euroleague.
From the autumn of 2010 he played for the German Eurocup team EWE Baskets Oldenburg.
Following his season in Germany, Baynes signed with the Greek team Ikaros Kallitheas B.C..
On 1 August 2012, Baynes signed with the Slovenian club Union Olimpija. He left Olimpija in January 2013.
On January 23, 2013, Baynes signed with the San Antonio Spurs. In his second NBA game, Baynes recorded 7 points, 9 rebounds and 1 block in a 102–78 victory over the Charlotte Bobcats. The Spurs assigned him to the Austin Toros of the NBA D-League several times over the course of the season. Baynes made his first NBA career start in Game 4 of the first round in the playoffs against the Los Angeles Lakers, and was tasked to defend Dwight Howard.
Career statistics
Legend
  GP
Games played
  GS 
Games started
 MPG 
Minutes per game
 FG% 
Field goal percentage
 3P% 
3-point field goal percentage
 FT% 
Free throw percentage
 RPG 
Rebounds per game
 APG 
Assists per game
 SPG 
Steals per game
 BPG 
Blocks per game
 PPG 
Points per game
Bold
Career high
NBA regular season
| Year | Team | GP | GS | MPG | FG% | 3P% | FT% | RPG | APG | SPG | BPG | PPG |
| --- | --- | --- | --- | --- | --- | --- | --- | --- | --- | --- | --- | --- |
| 2012–13 | San Antonio | 16 | 0 | 8.8 | .500 | .000 | .583 | 2.0 | .3 | .1 | .4 | 2.7 |
| Career | | 16 | 0 | 8.8 | .500 | .000 | .583 | 2.0 | .3 | .1 | .4 | 2.7 |
NBA playoffs
| Year | Team | GP | GS | MPG | FG% | 3P% | FT% | RPG | APG | SPG | BPG | PPG |
| --- | --- | --- | --- | --- | --- | --- | --- | --- | --- | --- | --- | --- |
| 2013 NBA Playoffs | San Antonio | 4 | 1 | 5.8 | .571 | .000 | .000 | 1.3 | .0 | .0 | .0 | 2.0 |
| Career | | 4 | 1 | 5.8 | .571 | .000 | .000 | 1.3 | .0 | .0 | .0 | 2.0 |
Euroleague
| Year | Team | GP | GS | MPG | FG% | 3P% | FT% | RPG | APG | SPG | BPG | PPG | PIR |
| --- | --- | --- | --- | --- | --- | --- | --- | --- | --- | --- | --- | --- | --- |
| 2009–10 | Lietuvos Rytas | 10 | 8 | 13.3 | .511 | .000 | .643 | 3.0 | .2 | .4 | .9 | 5.5 | 3.0 |
| 2012–13 | Union Olimpija | 10 | 10 | 26.2 | .587 | .000 | .698 | 9.8 | .5 | .5 | .5 | 13.8 | 18.2 |
| Career | | 20 | 18 | 19.8 | .562 | .000 | .684 | 6.4 | .4 | .5 | .7 | 9.7 | 10.6 |