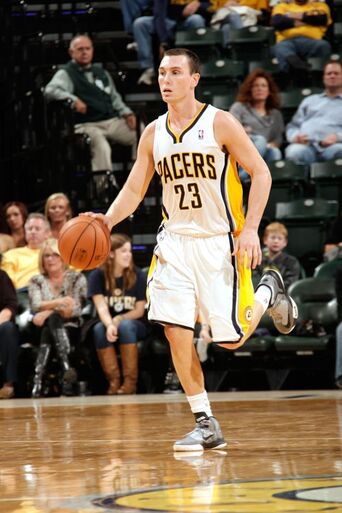 Ben Hansbrough (born December 23, 1987) is an
American
professional
basketball
player who last played for the
Indiana Pacers
of the
NBA
. He is the younger brother of
Tyler Hansbrough
, the
Naismith College Player of the Year
in 2007–08.
College
Ben, who is 6'3" and weighs 203 lbs, averaged 12.0 points per game during his career at Notre Dame. In his final season at Notre Dame, Ben was named to the All-Big East team; he was the lone unanimous pick for it. He also was chosen as the 2010–2011 Big East Player of the Year. He was picked to the Second Team All-America by Fox Sports.
Professional career
On June 27, 2011 he signed a one-year contract with Bayern Munich in Germany. During his time in Germany, he struggled to get playing time and was released on December 23. Not long after being released, he signed with Krka Novo Mesto of Slovenia. In January 2012, he left Krka Novo Mesto due to personal reasons on his part.
He played for the Indiana Pacers in the 2012 Orlando Summer League, where in 5 games he averaged 6.0ppg, 1.6apg, 1.0rpg. On September 18, 2012, he signed a non-guaranteed contract with the Pacers for the 2012–13 NBA season, joining his brother Tyler.