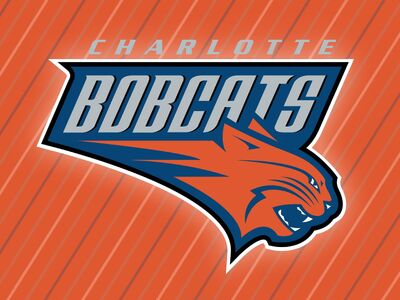 The
Charlotte Bobcats
are a professional
basketball
team based in
Charlotte, North Carolina
. They play in the
Southeast Division
of the
Eastern Conference
in the
National Basketball Association
(NBA). The Bobcats were established in 2004 as an
expansion team
, two seasons after Charlotte's previous NBA team, the
Charlotte Hornets
, relocated to
New Orleans
. The team is owned by former NBA player
Michael Jordan
, who acquired the team in 2010. The Bobcats play their home games at
Time Warner Cable Arena
in
center city
Charlotte. As of the end of the
2011–12 season
, the Bobcats have compiled a record of 229–411. In their 9-year history they have qualified for the postseason just once, which was during the
2009–10 season
when they achieved a franchise-best record of 44–38.
The team will be renamed the Charlotte Hornets for the 2014–15 NBA season after the New Orleans franchise's 2013 relinquishment of the name
2012–present: The Last Years As the Bobcats and the Return of the Hornets
Despite having the best odds of winning the draft lottery, the Bobcats did not obtain the first overall pick. In the 2012 NBA Draft, the Bobcats selected Michael Kidd-Gilchrist with the second overall pick. They also selected Jeffery Taylor with the thirty-first pick. They added Ben Gordon, Ramon Sessions and Brendan Haywood. The Bobcats first game was against the Indiana Pacers, and they won the game 90-89 in a heated last minute battle. On November 13, 2012 the Bobcats traded guard Matt Carroll to the New Orleans Hornets for power forward Hakim Warrick. After a surprising 7-5 start to the season in which 6 of the 7 wins were by 4 points or less, the team went on an 18 game losing streak. The Bobcats were unable to recover since the losing streak, finishing 21-61. On April 23, 2013, Dunlap was fired by Bobcats management. Dunlap would be replaced by former Los Angeles Lakers assistant head coach Steve Clifford.
On May 21, 2013, Bobcats team owner Michael Jordan officially announced the organization had submitted an application to change the name of the franchise to the Charlotte Hornets for the 2014–15 NBA season, pending a majority vote for approval by the NBA Board of Governors at a meeting in Las Vegas, Nevada on July 18, 2013. NBA Deputy Commissioner and COO Adam Silver had previously said it would take about 18 months for the team to change its name, but pointed out the fact that the league owns the rights to the Hornets name could speed up the process. The New Orleans Hornets had recently changed their name to the New Orleans Pelicans for the 2013–14 NBA season
Charlotte Bobcats Roster
| Player | # Number | Position |
| --- | --- | --- |
| Kemba Walker | 15 | Point guard |
| Michael Kidd-Gilchrist | 14 | Small forward |
| Ben Gordan | 8 | Shooting guard |
| Bismack Biyombo | 0 | Center |
| Byron Mullens | 22 | Power forward |
| Ramon Sessions | 7 | Point guard |
| Josh McRoberts | 11 | Power forward |
| Tyrus Thomas | 12 | Power forward |
| Gerald Handerson, Jr. | 9 | Small forward |
| Jeffery Taylor | 44 | Small forward |
| Jeff Adrien | 4 | Small forward |
| Jennero Pargo | 5 | Point guard |
| Brendan Haywood | 33 | Center |
| DeSagana Diop | 2 | Center |
| Reggie Williams | 55 | Small forward |