Daniel Joseph Orton (born August 6, 1990 in Oklahoma City, Oklahoma) is an American professional basketball player who currently plays for the Oklahoma City Thunder of the NBA. He is a 6-foot 10-inch, 255-pound center who played for the University of Kentucky Wildcats.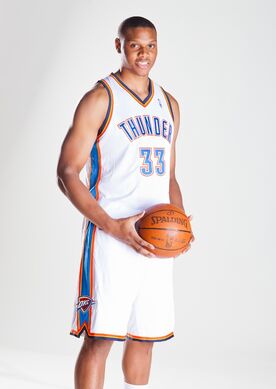 High school
Orton was a 5-star recruit while playing for Bishop McGuinness High School in Oklahoma City. Bishop McGuinness won the class 4A state championship Orton's freshman, sophomore, and junior year. During his senior season, he tore his anterior cruciate ligament in his knee, cutting his final season of high school basketball short.
He was recruited to the University of Kentucky by Billy Gillispie, however, Gillispie was fired following Orton's senior season. Orton kept his commitment to Kentucky after John Calipari was hired by the university. In the final Rivals.com recruiting rankings, Orton was considered the third best center in the Class of 2009 and the #22 player overall.
College
Orton was a reserve on the 2009–10 Kentucky Wildcats basketball team, where he averaged 3.4 points, 3.3 rebounds, and 1.4 blocks in 13.2 minutes per game. On May 8, 2010 Orton hired an agent and declared himself eligible for the 2010 NBA Draft.
Professional career
He was picked by the Orlando Magic with the 29th overall pick in the 2010 NBA Draft. On July 1, 2010, Orton signed his rookie contract with the Magic. On December 1, 2010, it was announced that Orton would be sent to the New Mexico Thunderbirds of the NBA Development League. In his second game for the Thunderbirds, Orton suffered a season-ending knee injury.
Orton made his NBA debut on January 27, 2012, in a Magic loss to the New Orleans Hornets. On April 15, 2012, in a win against the Cleveland Cavaliers, Orton scored a career high 11 points while also recording 5 steals, 4 rebounds, and 3 blocks. In 16 games, he averaged 2.8 points per game. He played his first career playoff game against the Indiana Pacers.
On August 4, 2012, Orton was signed by the Oklahoma City Thunder. On October 27, 2012, Orton was released by the Oklahoma City Thunder, after losing out to DeAndre Liggins for the final roster spot during the pre-season. However, he was re-signed by the team on October 31, 2012, after the team had sent center Cole Aldrich to the Houston Rockets in a trade that also involved James Harden. The Thunder assigned Orton to the NBA D-League's Tulsa 66ers several times during the 2012-13 season.
NBA career statistics
Legend
  GP
Games played
  GS 
Games started
 MPG 
Minutes per game
 FG% 
Field goal percentage
 3P% 
3-point field goal percentage
 FT% 
Free throw percentage
 RPG 
Rebounds per game
 APG 
Assists per game
 SPG 
Steals per game
 BPG 
Blocks per game
 PPG 
Points per game
Bold
Career high
Regular season
| Year | Team | GP | GS | MPG | FG% | 3P% | FT% | RPG | APG | SPG | BPG | PPG |
| --- | --- | --- | --- | --- | --- | --- | --- | --- | --- | --- | --- | --- |
| 2011–12 | Orlando | 16 | 2 | 11.7 | .567 | .000 | .440 | 2.4 | .3 | .5 | .6 | 2.8 |
| 2012–13 | Oklahoma City | 13 | 0 | 8.0 | .462 | .000 | .529 | 2.0 | .3 | .3 | .2 | 2.5 |
| Career | | 29 | 2 | 10.0 | .518 | .000 | .476 | 2.2 | .3 | .4 | .4 | 2.7 |
Playoffs
| Year | Team | GP | GS | MPG | FG% | 3P% | FT% | RPG | APG | SPG | BPG | PPG |
| --- | --- | --- | --- | --- | --- | --- | --- | --- | --- | --- | --- | --- |
| 2012 | Orlando | 4 | 0 | 2.3 | .000 | .000 | 1.000 | .5 | .0 | .0 | .0 | 1.0 |
| Career | | 4 | 0 | 2.3 | .000 | .000 | 1.000 | .5 | .0 | .0 | .0 | 1.0 |