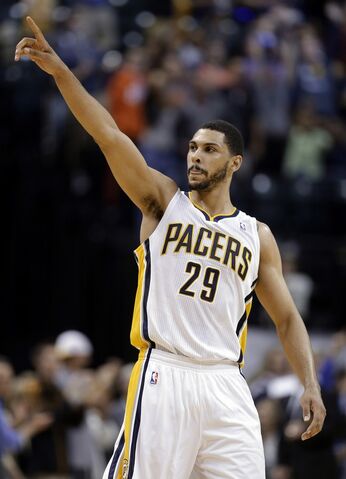 Jeffrey Curtis "Jeff" Pendergraph (born April 29, 1987) is an American professional
basketball
player who currently plays for the
San Antonio Spurs
of the
NBA
. He attended
Etiwanda High School
in
Rancho Cucamonga
and
college basketball
at
Arizona State University
.
College career
In his sophomore season at ASU (2006–07), Pendergraph grabbed a career-high 19 rebounds in a 52–36 victory over Colgate on December 19, 2006. On January 2, 2009, as a senior (2008–09), he scored a career-high 31 points, along with a game-high 11 rebounds, in a 90–60 win over Stanford. Twenty-one of those points were tallied in the first half.
NBA career
He signed a contract with the Portland Trail Blazers on September 8, 2009. His first game in the NBA came with the Blazers on December 22, 2009, against the Dallas Mavericks, in which he scored only two (2) points in 4 minutes of playing time.
Pendergraph scored a career-high 23 points on the last regular season game of the 2009–10 NBA season on April 14, 2010, against the Golden State Warriors. He was waived by the Trail Blazers prior to the start of the 2010 season after suffering a season-ending knee injury during a pre-season game against the Utah Jazz.
He was signed by the Indiana Pacers for the 2011–12 season. Before the start of the season he was sidelined with a mild sprain in his knee, suffered when he injured it during a December 10, 2011 practice.[7] Pendergraph got his first start for the Indiana Pacers on April 23, 2012. In 18 minutes of play he scored 10 points with 7 rebounds, 1 assist and 2 blocks.
Pendergraph was ejected from Game 7 of the 2013 Eastern Conference Finals by referee Ken Mauer after a shoving match with Miami Heat guard Norris Cole, who was also ejected in the fourth quarter.[8] Flo Rida's manager was also ejected after an ongoing verbal spat with Pendergraph.
NBA career statistics
Legend
  GP
Games played
  GS 
Games started
 MPG 
Minutes per game
 FG% 
Field goal percentage
 3P% 
3-point field goal percentage
 FT% 
Free throw percentage
 RPG 
Rebounds per game
 APG 
Assists per game
 SPG 
Steals per game
 BPG 
Blocks per game
 PPG 
Points per game
Bold
Career high
Regular season
Year
Team
GP
GS
MPG
FG%
3P%
FT%
RPG
APG
SPG
BPG
PPG
2009–10
Portland
39
4
10.4
.662
.000
.900
2.5
.0
.2
.4
2.7
2011–12
Indiana
20
1
5.3
.417
.000
.571
1.6
.2
.2
.1
1.7
2012–13
Indiana
37
0
10.0
.484
.500
.913
2.8
.4
.2
.3
3.9
Career
96
5
9.2
.524
.500
.860
2.4
.2
.2
.3
2.9
Playoffs
Year
Team
GP
GS
MPG
FG%
3P%
FT%
RPG
APG
SPG
BPG
PPG
2010
Portland
3
0
5.7
.500
.000
.750
.7
.0
.7
1.0
2.3
2012
Indiana
4
0
2.3
.333
.000
.000
.5
.0
.0
.0
.5
2013
Indiana
9
0
7.9
.333
.000
.000
2.0
.1
.0
.2
1.8
Career
16
0
6.1
.355
.000
.750
1.4
.1
.1
.3
1.6