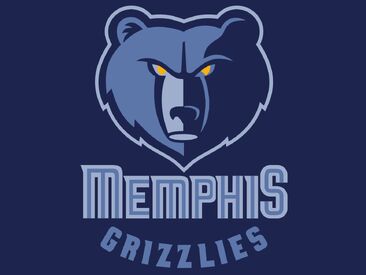 The Memphis Grizzlies are a professional Basketball team based in Memphis, Tennessee, USA. The team is part of the Southwest Division of the Western Conference in the National Basketball Association (NBA). The Grizzlies play their home games at FedExForum. The team's majority owner is Robert Pera. The Grizzlies were established in Vancouver, British Columbia in 1995. The team relocated to Memphis in 2001. They are also the only team out of the four major professional leagues that plays in Memphis.
2012-present: Grizzlies make Conference Finals
On October 25, 2012, Robert Pera was officially approved as the owner of the Memphis Grizzlies. On November 4, 2012, Pera named Jason Levien the Chief Executive Officer and Managing Partner of the Memphis Grizzlies.[16] [17] On December 13, 2012, ESPN announced that John Hollinger was hired by the Grizzlies as their new Vice President of Basketball Operations.
The Grizzlies started the 2012-13 NBA season with a loss to Clippers. However, since the loss, they started a winning streak and obtained a Season PCT of 0.857 only second behind New York Knicks, but became the first team to defeat them, thus ending their winning streak and a perfect PCT; Memphis earned a higher PCT of .875. The Grizzlies held the best record in the league at various times in the beginning weeks of the season.
On January 23, 2013, the Grizzlies acquired Jon Leuer from the Cleveland Cavaliers in exchange for Marreese Speights, Wayne Ellington, Josh Selby, and a future first-round pick.[18]
On January 30, 2013, the Grizzlies traded Rudy Gay and Hamed Haddadi to the Toronto Raptors in a three team deal also involving the Detroit Pistons. The Grizzlies acquired Tayshaun Prince and Austin Daye from the Pistons and Ed Davis and a future second-round pick from the Raptors.[19]
At the end of the season, Memphis finished 2nd in the Division and as the 5th seed in the Playoffs. Also, Marc Gasol was NBA Defensive Player of the Year. In the opening round, Memphis defeated the Los Angeles Clippers in 6 Games after trailing in the series 0-2. This avenged their defeat from the previous year at the hands of the Clippers. Memphis then went on to the Western Conference finals for the first time in franchise history when they defeated the Oklahoma City Thunder 4-1 in their semi-finals series. This was a rematch of their meeting in the 2011 NBA Playoffs, which the Thunder won in 7 games. However, the Grizzlies' season ended in the conference finals as they lost to the eventual conference champions, San Antonio Spurs.
Memphis Grizzlies Roster
| Player | # Number | Positon |
| --- | --- | --- |
| Zach Randolph | 50 | Power forward |
| Marc Gasal | 33 | Center |
| Mike Conley, Jr. | 11 | Point guard |
| Tony Allen | 9 | Shooting guard |
| Jerryd Bayless | 7 | Shooting guard |
| Tayshaun Prince | 22 | Small forward |
| Quincy Pondexter | 20 | Small forward |
| Ed Davis | 32 | Power forward |
| Keyon Dooling | 55 | Point guard |
| Darrell Arther | 0 | Power forward |
| Austin Daye | 5 | Small forward |
| Tony Wroten | 1 | Shooting guard |
| Donte Greene | 13 | Small forward |
| Jon leuer | 30 | Power forward |
| Willie Reed | 3 | Power forward |