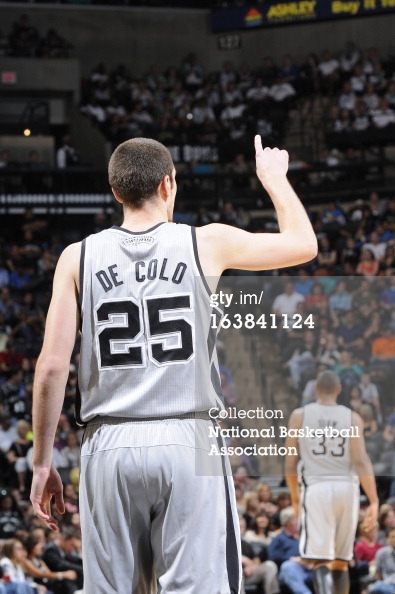 Nando de Colo (born 23 June 1987) is a
French
professional
basketball
player who currently plays for the
San Antonio Spurs
of the
National Basketball Association
(NBA).
Early life
De Colo was born in Sainte-Catherine-lès-Arras, France and attended Lycée Fernand Renaudeau in Cholet
Pro career
De Colo made his professional debut during the 2006–07 season with the French Pro A club Cholet Basket. Under supervision of head coach Erman Kunter, he helped the team win the 2008 Semaine des As, and reach the finals of the 2008 French Cup and of the 2009 Eurochallenge.
He was drafted with the 53rd pick by the NBA club the San Antonio Spurs in the 2009 NBA Draft. He then moved to the Spanish ACB League club Valencia in 2009. He won the 2010 Eurocup title.
In July 2012, De Colo decided to leave Valencia, in order to play in the NBA. On July 13, 2012, De Colo signed a two-year deal with the San Antonio Spurs. The Spurs assigned him to the D-League's Austin Toros several times during the 2012–13 season.
Career statistics
Legend
  GP
Games played
  GS 
Games started
 MPG 
Minutes per game
 FG% 
Field goal percentage
 3P% 
3-point field goal percentage
 FT% 
Free throw percentage
 RPG 
Rebounds per game
 APG 
Assists per game
 SPG 
Steals per game
 BPG 
Blocks per game
 PPG 
Points per game
Bold
Career high
NBA regular season
| Year | Team | GP | GS | MPG | FG% | 3P% | FT% | RPG | APG | SPG | BPG | PPG |
| --- | --- | --- | --- | --- | --- | --- | --- | --- | --- | --- | --- | --- |
| 2012–13 | San Antonio | 72 | 6 | 12.8 | .436 | .378 | .795 | 1.9 | 1.9 | .6 | .1 | 3.8 |
| Career | | 72 | 6 | 12.8 | .436 | .378 | .795 | 1.9 | 1.9 | .6 | .1 | 3.8 |
NBA playoffs
| Year | Team | GP | GS | MPG | FG% | 3P% | FT% | RPG | APG | SPG | BPG | PPG |
| --- | --- | --- | --- | --- | --- | --- | --- | --- | --- | --- | --- | --- |
| 2013 | San Antonio | 5 | 0 | 2.8 | .250 | .000 | 1.000 | .8 | .4 | .0 | .0 | .8 |
| Career | | 5 | 0 | 2.8 | .250 | .000 | 1.000 | .8 | .4 | .0 | .0 | .8 |
Euroleague
| Year | Team | GP | GS | MPG | FG% | 3P% | FT% | RPG | APG | SPG | BPG | PPG | PIR |
| --- | --- | --- | --- | --- | --- | --- | --- | --- | --- | --- | --- | --- | --- |
| 2010–11 | Power Electronics Valencia | 19 | 19 | 21.5 | .335 | .276 | .957 | 2.6 | 1.6 | 1.4 | .2 | 10.1 | 8.2 |
| Career | | 19 | 19 | 21.5 | .335 | .276 | .957 | 2.6 | 1.6 | 1.4 | .2 | 10.1 | 8.2 |