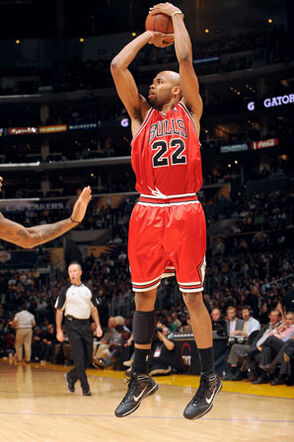 Taj Jami Gibson (born June 24, 1985) is a professional basketball player for the
Chicago Bulls
of the
National Basketball Association
(NBA). Following the 2010 signing of
Carlos Boozer
, he has played as the second string power forward. Gibson played three seasons of collegiate basketball for the
USC Trojans
and was selected 26th overall by the Bulls in the
2009 NBA Draft
.
Early life
Gibson was born on June 24, 1985 in Brooklyn, New York City, New York. Gibson began his high school career at the High School of Telecommunication Arts & Technology in Brooklyn, N.Y. He then attended Stoneridge Prep as a sophomore and junior in Tarzana, California. During his senior year in 2006, he attended Calvary Christian in San Fernando, California.
College career
Gibson played at the University of Southern California, where he was a member of the Phi Kappa Psi fraternity. As one of the oldest freshmen in the country at age 21 in 2007 he was named to the Pac-10 All-Freshman team. He helped beat rival UCLA in 2008.
Gibson was named to the 2009 All-Pac 10 Tournament Team by helping the Trojans winning the Tournament Championship at the Staples Center.
NBA career
Chicago Bulls
2009-10 season
Gibson declared for the 2009 NBA Draft, and was selected 26th overall by the Chicago Bulls. He, along with fellow draft pick James Johnson, signed with the Bulls in July, 2009. Gibson was the starting power forward for most of his rookie season with the Bulls and impressed many people with his high energy and good defense. During the All-Star Weekend, Gibson played in the Rookie Challenge, where the Rookie team won for the first time since 2002. The Bulls made the playoffs securing the 8th seed in the Eastern Conference. Taj averaged 7.6 points per game and 7.0 rebounds while the Bulls lost to the Cleveland Cavaliers in the first round. At the end of his first season, Taj was selected to the NBA All-Rookie First Team.
2010-11 season
During the off-season, the Bulls signed power forward Carlos Boozer, who was expected to start at the beginning of the season rather than Gibson. Prior to the pre-season though, Boozer broke his hand, so Gibson started the first 15 games of the season. After Boozer's return, Gibson moved into a bench role for most of the season. At the end of the season, the Bulls made the playoffs as a 1st seed in the Eastern Conference. On May 10, 2011, Gibson helped his team take a 3-2 lead in the Eastern Conference semifinals against Atlanta, making all of his 11 points in the fourth quarter.
US Select Team
On May 14, 2012, Gibson was named to the US Select Team, joining the likes of Jeremy Lin, DeMarcus Cousins, and Kyrie Irving in practicing with the US Olympic Team in preparation for the 2012 Summer Olympics in London.
Career statistics
Legend
  GP
Games played
  GS 
Games started
 MPG 
Minutes per game
 FG% 
Field goal percentage
 3P% 
3-point field goal percentage
 FT% 
Free throw percentage
 RPG 
Rebounds per game
 APG 
Assists per game
 SPG 
Steals per game
 BPG 
Blocks per game
 PPG 
Points per game
Bold
Career high
College
| College | Year | GP | MPG | SPG | BPG | RPG | APG | PPG | FG% | FT% | 3P% |
| --- | --- | --- | --- | --- | --- | --- | --- | --- | --- | --- | --- |
| USC | 2006–07 | 37 | 32.4 | .5 | 1.9 | 8.7 | 1.5 | 12.2 | .558 | .623 | .000 |
| USC | 2007–08 | 33 | 32.1 | .7 | 2.5 | 7.8 | 1.3 | 10.8 | .580 | .594 | .000 |
| USC | 2008–09 | 35 | 33.7 | 1.0 | 2.9 | 9.0 | 1.3 | 14.3 | .601 | .659 | .000 |
NBA
Regular season
| Year | Team | GP | GS | MPG | FG% | 3P% | FT% | RPG | APG | SPG | BPG | PPG |
| --- | --- | --- | --- | --- | --- | --- | --- | --- | --- | --- | --- | --- |
| 2009–10 | Chicago | 82 | 70 | 26.9 | .494 | .000 | .646 | 7.5 | .9 | .6 | 1.3 | 9.0 |
| 2010–11 | Chicago | 80 | 19 | 21.8 | .466 | .125 | .676 | 5.7 | .7 | .5 | 1.3 | 7.1 |
| 2011–12 | Chicago | 63 | 0 | 20.4 | .495 | .000 | .622 | 5.3 | .7 | .4 | 1.3 | 7.7 |
| 2012–13 | Chicago | 65 | 5 | 22.4 | .485 | .000 | .679 | 5.3 | .9 | .4 | 1.4 | 8.0 |
| Career | | 290 | 94 | 23.1 | .485 | .083 | .655 | 6.0 | .8 | .5 | 1.3 | 7.9 |
Playoffs
| Year | Team | GP | GS | MPG | FG% | 3P% | FT% | RPG | APG | SPG | BPG | PPG |
| --- | --- | --- | --- | --- | --- | --- | --- | --- | --- | --- | --- | --- |
| 2010 | Chicago | 5 | 5 | 29.0 | .421 | .000 | .545 | 7.0 | .6 | .2 | .6 | 7.6 |
| 2011 | Chicago | 16 | 0 | 17.8 | .566 | .000 | .600 | 4.1 | .6 | .3 | 1.4 | 5.9 |
| 2012 | Chicago | 6 | 0 | 22.8 | .457 | .000 | .682 | 6.5 | .7 | .7 | 1.7 | 9.5 |
| 2013 | Chicago | 12 | 0 | 17.2 | .470 | .000 | .727 | 3.0 | .3 | .3 | .5 | 6.5 |
| Career | | 39 | 5 | 19.8 | .491 | .000 | .657 | 4.5 | .5 | .4 | 1.1 | 6.9 |